It's that time of year…a chill in the air, leaves falling, winds blowing, and Halloween circled on the calendar. What better time to visit some of the most haunted places in America – where lingering sprits roam through the halls of places like abandoned insane asylums, infamous penitentiaries, old homes, and creepy hotels. Visit at your own risk….and beware! Here are 10 of the best scary places to visit for Halloween.
Salem, Massachusetts
Famous for the 1692 Witch Trials, Salem has a somber and sordid side that contrasts with its serene, historic harbor and tree-lined streets. Those accused in 1692 were not witches but were accused due to the Puritan beliefs of the time. By the time the Trials ended, more than 150 people had been jailed and 19 were hanged. Some believe the spirits of those executed still haunt the town today. Beginning in 1982, a month-long event called "Salem Haunted Happenings" offers visitors everything from ghost tours and haunted harbor cruises, to psychic readings, magic shows, and more.
House of the Seven Gables/Salem, Mass
Turns out one of the judges of the Witch Trials was the notoriously enthusiastic witch-hunter, John Hawthorne, who was the grandfather of literary giant, Nathaniel Hawthorne. Nathaniel used this real, 17th century house as inspiration for his 1851 novel, "The House of the Seven Gables." The book is an attempt to right the wrongs of the Salem Witch Trials, exposing them as hypocrisy and injustice. Aside from the house's beautiful-yet-spooky façade, it is surrounded by tales of paranormal activity and ghost sightings – mostly based on personal experiences of the staff working there. Visitors often report an icy feel to the house and have a general sense of foreboding as they tour the property. Some comment on strange encounters including a rocking chair that rocks by itself!
Eastern State Penitentiary/Philadelphia, PA – 10 of the Best Scary Places to Visit for Halloween
Built in 1829, Eastern State was once the most famous prison in the world. It was the first in the US to implement solitary confinement and took it to new levels as prisoners were forced to live alone in stone cells, exercise alone, eat alone, and guards even put hoods over their heads when they were being moved from one place to another so they couldn't see or be seen. Proponents of this system believed solitude would lead to penitence, and then to rehabilitation. About 1200 prisoners died there, and some believe the inmates' ghosts took back the prison after it closed in 1971. Many visitors today report hearing footsteps in empty hallways, see apparitions wandering the corridors, and hear disembodied wails, whispers, and laughter from abandoned cell blocks.
Stanley Hotel/Estes Park, CO
A stay of one night in the Stanley Hotel by author Stephen King was enough to inspire his first hardcover bestseller, "The Shining." F.O. and Flora Stanley opened the hotel in 1909 in Colorado's isolated, mountain wilderness as a place to heal for those suffering from tuberculosis, and as a retreat for wealthy Easterners. F.O. and Flora loved the location so much that they have supposedly never left! Also, since the publication of "The Shining," the hotel has acquired more of a reputation for haunted activity, hosting several paranormal investigations and appearing on shows such as "Ghost Hunters" and "Ghost Adventures." The Stanley leans into its reputation quite effectively by offering nightly ghost tours and psychic consultations for those inclined from in-house "Madame Vera."
RMS Queen Mary/Long Beach, CA
This luxury ocean liner sailed the Atlantic Ocean from 1936 to 1967. Over the years it carried dignitaries and Hollywood celebrities such as Gen. Dwight Eisenhower, Elizabeth, Taylor, and Audrey Hepburn, among others. It became a troop ship during World War II, and Winston Churchill signed the D-Day Declaration on board. The ship is reportedly haunted by the spirits of those who died aboard, including a young sailor who was crushed to death by a door in the engine room, and a crew member who was murdered in cabin B340. The city of Long Beach has turned the ship into a hotel, and in October each year it transforms into the frightening Halloween attraction, "Dark Harbor."
Winchester Mystery House/San Jose, CA – 10 of the Best Scary Places to Visit for Halloween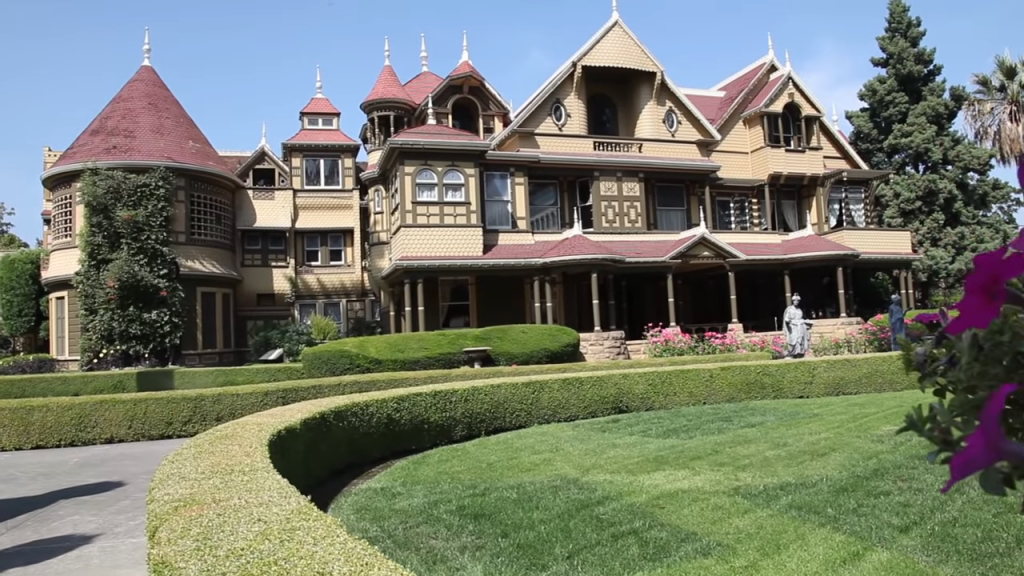 Once the personal residence of Sarah Winchester, widow of firearm magnate William Winchester, this house might be one of the most disturbing construction projects in history. Sarah purchased it as an unfinished farmhouse in 1884 after the death of her husband and child, then began adding on to it in 1886. She believed she needed to make amends to the spirits of people who had fallen victim to Winchester rifles by continuously building a home for them. She did not use an architect and added on in a haphazard fashion, so the house contains creepy oddities such as doors that open into brick walls, windows that lead into secret passages, stairs with odd-sized risers that lead directly into the ceiling, and interior windows overlooking other rooms. The additions continued until Sarah Winchester's death in 1922. The home is now a designated California historical landmark and is listed on the National Register of Historic Places.
Trans-Allegheny Lunatic Asylum/Weston, West Virginia
Construction began on this foreboding asylum in 1958 and it opened its doors to patients in 1864. Designed for only 250 people, by the 1950s the facility reached its peak population of 2400. In these crowded conditions were patients with afflictions ranging from alcoholism to epilepsy. The severe overcrowding led to inhumane conditions like lack of heat and keeping convalescents in cages. Some patients were given questionable treatments such as electroshock therapy and lobotomies. All of this led to patients acting increasingly violent, including attacking staff members and starting fires. After operating for more than a century, the asylum finally closed in 1994 due to reforms in mental health treatment and the deterioration of the buildings. Hundreds of patients died during the asylum's tenure, and their souls are said to linger within the crumbling structure. Ghost tours are available for those hoping to see how patients lived – and died – within the cramped halls.
Lizzie Borden Bed & Breakfast/Fall River, Massachusetts
Most people are familiar with the story: Police accused Lizzie Borden of brutally bludgeoning her father and stepmother with a hatchet in this home in 1892. Despite allegations that Lizzie had financial motives for the murder, she was acquitted later that same year due to the lack of physical evidence – although no one else has ever been charged for the murders. The Borden home has been converted into a museum and bed & breakfast where visitors can see gruesome crime scene photos and even sleep in the rooms where the murders were committed. Guests and employees alike have reported all kinds of strange activity in the house, including the sounds of footsteps and weeping, a ghost in Victorian-era clothing wandering the halls, doors opening and closing by themselves, and whispered conversations coming from empty rooms.
St. Augustine Lighthouse/Florida – 10 of the Best Scary Places to Visit for Halloween
Built between 1871 and 1874 on the north end of Anastasia Island, this lighthouse is visited by almost 225,000 people a year…and it is also well-known for its otherworldly visitors! Several tragic events happened at this historic site that have contributed to the alleged paranormal activity. One of the first was when the lighthouse keeper fell to his death while painting the tower – his ghost has supposedly been spotted watching over the grounds. Another circumstance was the tragic death of three young girls who drowned when the cart they were playing in on the lighthouse grounds broke and fell into the ocean. Visitors today claim to hear ghostly sounds of children playing in and around the lighthouse. Tours of the location are offered at night for those hoping to witness any paranormal activity!
Whaley House/San Diego, CA
Thomas Whaley built this family estate in 1857 on the former site of San Diego's first public gallows. After he moved in, Whaley reported hearing the heavy footsteps of "Yankee Jim Robinson," a drifter and thief who was hanged at the site four years before the home was built. After that, Whaley's family history included several tragic deaths and suicides, many of which happened inside the house itself. It is believed some of the family members still haunt the location, as evidenced by visitors who have seen windows mysteriously fly open, spirits roaming the upper landing, and the ghost of a little girl in the dining room. Legend has it that she is the ghost of a friend of the Whaley children who accidentally broke her neck on a clothesline in the back yard. Daytime and nighttime tours are offered, and even if you don't believe in ghosts the house offers enough history and scenery to keep your feet firmly planted in THIS realm!