Japan's capital city is one of the world's most popular tourist destinations. A buzzing metropolis with more than 13 million people, Tokyo is known for its history, culture, architecture, shopping, entertainment, and parks. The following is a look at the top things to see and do in Tokyo, highlighting its leading sites and attractions.
Soaring Towers
Visitors enjoy panoramic vistas of Tokyo from observation decks at two of the highest towers on Earth. The Tokyo Skytree, at 2,080 feet, is Japan's tallest structure. It has two viewing platforms, including a spiral ramp that wraps around the tower. The facility also offers a restaurant, shops and an aquarium.
The second-highest building in the country, the Tokyo Tower, reaches 1,092 feet. Painted white and orange, it was designed to resemble the Eiffel Tower. The edifice has a pair of observation decks. Beneath the tower is a four-story building that houses restaurants, shops and museums.
Elegant Temples – Top Things To See And Do in Tokyo, Japan
The city, known as Edo until 1869, has been a spiritual center for many centuries. Visitors can get a glimpse of the rich history at several colorful shrines.
For those who have time to tour just one of these places, Senso-ji may be the best choice. A Buddhist temple founded in 645 AD, it has since been rebuilt several times. The main building is a five-story pagoda made mostly of cypress and copper. The main entrance is the 10th century Kaminarimon Gate, adorned with statues of the gods of thunder and lightning.
Meiji Jingu is a Shinto shrine complex in a 170-acre forest with walking paths and gardens. A museum called the Treasure House displays imperial artifacts like a carriage the emperor used in the 19th century.
The Imperial Palace
This is the home of the current royal family, erected on the former site of the Edo Castle. Fire destroyed the original, 1888 building. The structure that stands today dates to the 1940s. It sits in a picturesque, park-like setting with trees and gardens.
A stylish stone bridge leads across a moat that surrounds the site. There are memorials, monuments and museums, as well as a library, music hall and teahouse. Tours of the palace grounds are available.
Entertainment Districts – Top Things To See And Do in Tokyo, Japan
Tokyo offers several fun places to eat, drink, shop and take carnival rides. Odaiba, on an artificial island adjacent to the city center, features modern skyscrapers, hotels, malls, museums, movie theaters and a beach. In addition, there is the Legoland Discovery Center and several indoor theme parks (one of which has hot springs and massage services).
Tokyo Disneyland Resort, a short distance from the city, was the first such facility outside the United States. The complex includes rides, shops, restaurants and hotels. There are two theme parks: Tokyo Disneyland, with areas titled Adventureland, Westernland, Fantasy Land and Tomorrowland; and Tokyo DisneySea, which consists of seven themed sections such as Mediterranean Harbor, Mysterious Island, Mermaid Lagoon and Arabian Coast.
Fascinating Museums
Art and history are on display at dozens of museums and galleries. The Tokyo National Museum, and the National Museum of Nature and Science, are among five such institutions in Ueno Park. The sprawling, verdant site alongside a lake also contains two libraries.
The Nezu Museum has exhibits of east Asian paintings, ceramics, textiles and other works of art. It is in the Harajuku neighborhood, where visitors find shops selling vintage and contemporary clothes. There are upscale boutiques, cafes, bars, and street art, as well, in this trendy district. The Edo-Tokyo Museum provides history lessons in a striking modern building.
Green Spaces – Top Things To See And Do in Tokyo, Japan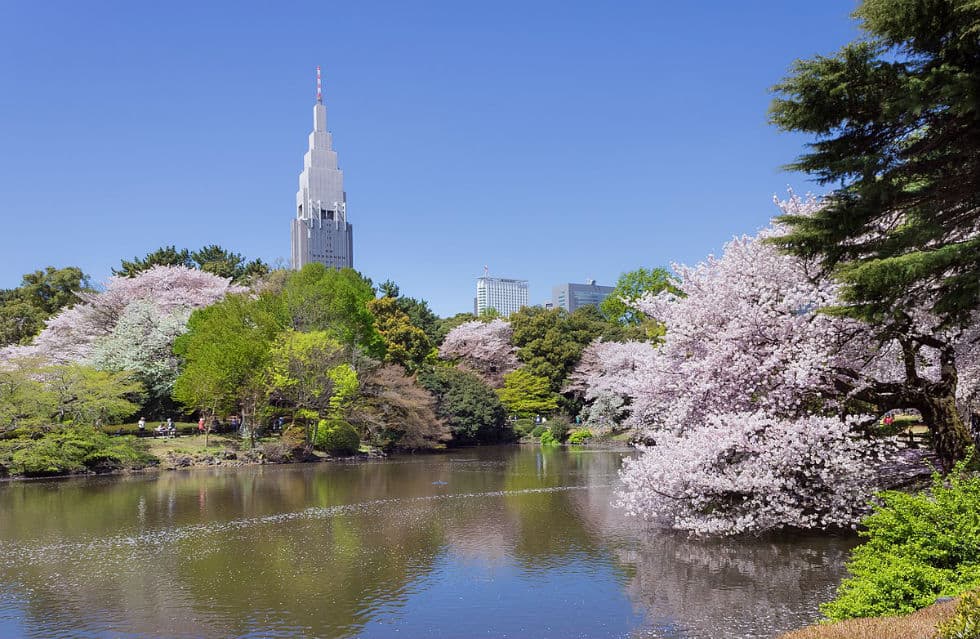 Tokyo teems with parks and gardens that provide respites from the bustling city streets. Shinjuku Gyoen is one of Tokyo's largest and oldest natural areas. It was initially created during the Edo Period, in the 17th to 19th centuries. The 40-acre site features grassy, woody, and watery tracts. There are three kinds of flower plots, including French and English. Traditional Japanese gardens consist of flowers planted among ponds, islands, bridges, and pavilions. Tropical plants grow in large greenhouses.
Yoyogi Park has forests, ponds, and expansive lawns. Visitors admire the scenery, picnic, walk, jog, bike and play volleyball. This is a cultural hub that attracts entertainers such as musicians, comedians, and jugglers. The biggest crowds come in the spring when the iconic Japanese cherry blossoms bloom.
Hibiya Park is 40 acres of lawns, flowers, trees, ponds, fountains, and sculptures aside the Imperial Palace moat. A public space since 1903, it provides habitat for many species of birds and other wildlife. A major attraction is a 400-year-old ginkgo tree that is 21 feet around and 80 feet tall. There are large displays of tulips and roses, as well as two music domes for festivals and concerts. Among the additional facilities are a restaurant, museum, library and tennis court.
Another public park, Hamarikyn Gardens, is on the site of a 17th century Shogun villa. It has flower beds and a teahouse.